Media Kit
Download logos, screenshots, headshots, and photos. If you have any questions or specific needs, please feel welcome to contact us.
Working on a story about Compaas? Let us help you! Contact us at: press@compa.as
Our Story
In 2016, bethanye Blount and Lisa Dusseault came together to create Compaas®.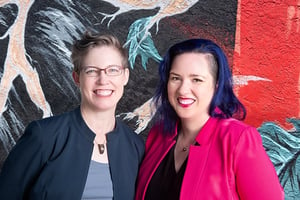 From experience, they already knew that the hardest problems in tech are "people-problems" — and dozens of ways to tackle them. The team spent months researching which problem to tackle. Neither had direct HR experience, and they knew the only way to understand the subject was by talking to the people who worked in the field. They interviewed dozens of HR professionals, company leaders, founders, and investors. During that process, a former colleague shared that "compensation is really broken... but that's probably too hard to solve!"
That "too hard to solve" comment caught the founders' imagination — and they got to work.

The enemy? Spreadsheets. They՚re too fragile, too time-consuming, and often inaccurate. What started as a simple PDF report has grown into a powerful Compensation Intelligence Platform. Compaas provides proactive insights and analytics about employee compensation, without tedious spreadsheets. Compaas Rewards provides a secure and seamless workflow backed by valuable analytics.